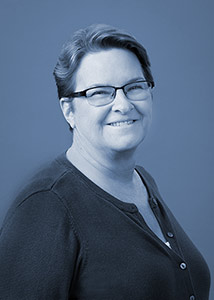 As the Executive Assistant and Client Resource Specialist Michele's responsibilities include managing the calendars for the Partners and the President of the company, coordination of the daily office procedures, including banking, meeting facilitation, minutes, event planning and management of a number of the firm's client's and their workgroups.
Michele attended Salem State College studying business law and finance
Michele has over 30 years of Administrative and Operations experience in various industries including Manufacturing, Event Management, Retail Management, International Dealer Relations and Non-Profit Management. Her strong operations background, with an emphasis on process improvement and quality management implementation, has enabled her to lead several organizations through ISO 9000 certification. Michele brought that same management and process improvement philosophy that she developed in Silicon Valley to her businesses and positions in New Hampshire. As a former business owner, Michele possesses a unique insight into the challenges and integrity needed to build and manage a successful business
Michele was recognized by the State of California as one of the leaders in developing and awarding the first California Quality Award. Michele was also recognized as an ISO 9000 Lead Auditor with the British Standards Institute.
Michele has been a NH Track and Field Official for Throwing events (ShotPut, Discus and Javelin) for over 10 years. She was also a member of the board for the Supporters of Performing Arts for Coe-Brown Northwood Academy and a very active PTO member in the Strafford School when her daughters attended the school.
Currently Michele Leads the Event Team for Seacoast Outright in Portsmouth, NH
When not working Michele enjoys cooking and creating recipes. As a cookbook author ("Hey, Can I Have that Recipe" and "Help! I'm Hungry and I Don't Know How to Cook") Michele loves experimenting with different ingredients and sharing those recipes with her family and friends.
As a high-tech executive in California, family would have taken a back seat so Michele and her husband left their jobs, packed up their family and moved to small town New Hampshire. In her words "we wanted to be parents rather than executives and have never looked back!"